Recording without Extra Device
KEMscreen and STEevolution do not need any computer. You can record optionally in camera on SD-Card UHS (digital cinema workflow in Cinema DNG/ProRes) or onto a hard disc recorder (HDMI-workflow in YCbCr), a server system or directly on PC or Mac (video playout workflow).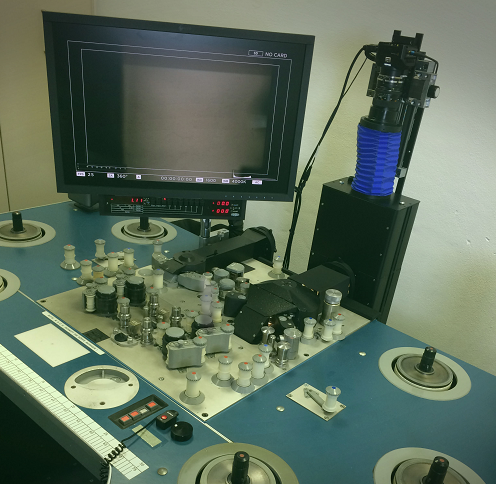 Better Picture Quality
KEMscreen and STEevolution are a significant improvement to usual film editing tables with picture hoods in terms of resolution and dynamic range.

The new, patented imaging system KEMcore (P)  is presented to you by KEM. It provides a dynamic range that is superior to the original picture-module as follows:
The brighter parts of your picture are typically lost during an ordinary video recording. Here the highlights are reduced by an optical low pass-filter and scaled into the dynamic range of the digital cinema camera (13 stop). This way the information in the highlights of your film material is saved and may be reproduced just like the blacks.
Calibration and Color Management
Thanks to the ICC-profiling of the new professional flat screen your editing table becomes a reference tool for picture comparison in between profiled systems of a digital postproduction. KEM offers a scale of powerful video displays starting up to broadcast equipment. Ofcourse, your pre-existing video monitors can be used as well.
The Historic Viewing Technique Has Been Preserved
The table does not lose any of its reliability or visual character. All its features will remain the same, not even one drilling is necessary to mount the table interface instead of the picture module. The operation of your table remains as it was before.
The polygon of the table is retained, and with it the familiar and characteristic look of the editing table. For sound recording the analog tape heads of the table are used so the character of the sound will stay as well while you will hear it on a modern active sound monitor.
A circuit has been developed  for KEMscreen to create the synchronicity of the analog film and digital image. Every single image can be checked in improved quality as a single picture, in shuttle mode and in real time.
Vintage Editing Table with Modern Monitor
The self-luminous display compensates changes of light in the environment in color and intensity automatically. This makes the installation location of your vintage and beautiful table  independent from ambient light. You may place your editing table in a bright entrance hall or office now. Focus and brilliance counteracts visual fatigue.
The digital display has a significantly larger viewing angle than the ground glass of the editing table, thus enabling demos in front of a group of interested people. The camera can be controlled via a remote-app.
Formats
The system natively provides 4k ready. Other Cameras can be installed or retrofitted upon request, though a digital 16:9 HD Black Magic Cinema Camera is the standard configuration.
KEMscreen and STEevolution are optimized for 16:9 full-picture formats of S16 up to Super35mm. If wanted,  the framing can be fixed for visual co-recording of the sound track. In this case, however, 4:3 formats have to be re-formatted by cropping.
Future-proof Archive Formats
Video-playout workflow:
Uncompressed digital component video (YCbCr) 1080p (4:2:2) as HDMI (or SDI via converter)
Digital-cinema workflow:
CinemaDNG non-proprietary, open Adobe RAW format incl. proxy preview
ProRes (4:2:2) in different bit rates (Apple/ ARRI)
This allows all options of a professional film postproduction and sustainable archiving.
Layout of KEMscreen
The heart of our digital retrofit-kit for analog film editing tables is the new patented imaging system KEMcore©
This, plus camera and display, can be changed by the operator in between the tables with a KEMscreen or STEevolution table-interface that has been mounted previously by a KEM trained technician.
Components and Optional Components(opt) 
KEMcore (p)
Table-interface for KEMcore (p)
Remastered projection lens
Breakout-box
Master clock (KEMscreen only)
Camera(opt) (Black Magic Micro Cinema Camera)
Camera interface for KEMcore (p)
Customized bracket camera (BMMCC)
Camera lens
Flat screen display(opt)
Flat screen bracket and monitor-arm(opt)
Sound-monitor(opt)
Camera-Remote: OneLittleRemote + app(opt)
Look-Up-Table (LUT)(opt)
Synchronized LED Light Source (opt)